Ini ada komik dari XKCD, webcomic yang populer di Internet. Komik ini dibuat setelah kasus ada artis terkenal yang di belakang layar ternyata kelakuannya tidak sebaik yang seharusnya (dan kata-katanya yang kotor itu terekam tanpa sepengetahuannya).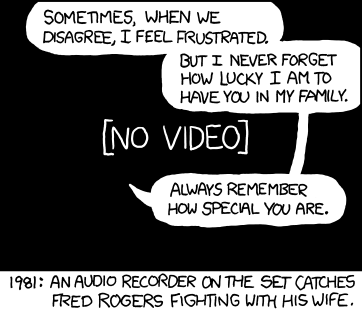 Mr. Rogers projected an air of genuine, unwavering, almost saintly pure-hearted decency. But when you look deeper, at the person behind the image … that's exactly what you find there, too. He's exactly what he appears to be.
Yang ingin diungkapkan oleh pembuat komik ini adalah: Mr Roger adalah benar-benar orang yang baik, jadi ceritanya dalam komik itu, di "rekaman tidak sengaja di balik panggung" (di mana tidak ada orang yang melihat), Mr Roger tetap baik dalam kata-katanya. "He's exactly what he appears to be."
Buat yang belum tahu: Mr Roger, atau Fred Roger adalah pembawa acara anak-anak dari tahun 1968. Pendekatannya tidak menggunakan animasi atau lagu-lagu anak-anak sederhana, tapi dengan komunikasi dan dengan lagu-lagu yang dikarangnya sendiri. Dia punya gelar BA dalam bidang musik, dan merupakan ordained minister di Presbyterian Church. Membuat acara anak-anak menjadi pelayanannya dalam sepanjang hidupnya.
Cerita tentang Mr Roger ada banyak sekali, yang intinya menceritakan betapa baiknya dia, baik di dalam televisi, maupun dalam kehidupan sehari-hari.
Following Rogers' death, the U.S. House of Representatives in 2003 unanimously passed Resolution 111 honoring Rogers for "his legendary service to the improvement of the lives of children, his steadfast commitment to demonstrating the power of compassion, and his dedication to spreading kindness through example."
Sebenarnya posting ini bukan ingin berfokus pada Mr Roger. Walau sudah banyak membaca cerita mengenai orang-orang yang pernah bertemu dengannya. Kami tidak pernah sempat bertemu Mr Roger. Tapi kami sempat bertemu dengan keluarga yang menunjukkan kasih Tuhan melalui contoh dalam hal yang mereka lakukan dalam hidup mereka.
Komentar sebagian orang yang membaca blog mereka adalah "mereka kelihatan Rohani banget sih" dengan nada seperti tidak percaya bahwa ada keluarga yang bisa seperti itu. Saya bisa memahami pandangan seperti itu, karena pasti sudah banyak bertemu dengan orang "sok rohani" tapi ternyata menjadi batu sandungan. Sebagai orang yang sudah melihat kehidupan mereka, seperti Mr Roger, "They are exactly what they appears to be".
Ada banyak cerita dari sejak kami bertemu pertama kali di klinik ketika Risna hamil, sampai sekarang ini, tapi akan terlalu panjang untuk diceritakan. Ini hari terakhir mereka akan tinggal di satu kota dengan kami. Perjalanan mereka ke depan masih sangat panjang dan berat. Tapi kami yakin dan percaya dan berdoa kehidupan mereka akan selalu dijaga dan disertai Tuhan.
Selamat mengambil langkah berikutnya dalam kehidupan kalian Mike & Lia.